Thank you for coming today! This is the English recipe
こちらは英語版レシピです(日本語版はこちら)
This time it's anhydrous keema curry made with chicken breast and pumpkin.
After frying the onions, all you have to do is simmer it. Stew with tomato water.
Video Recipes
Please don't forget to like the video,and subscribe to my channel!
Ingredients (Serve 4)

500g Ground chicken breast
2.5ml Salt (for chicken)
Cinnamon powder
Nutmeg powder
Clove powder
350g Pumpkin
A pinch of salt (for pumpkin)
5g Ginger
10g Garlic
300g Onions
500g Tomatoes
5ml Salt
60ml Curry powder
60ml Powdered cheese
1 Bay leaf
1 Cinnamon stick
5ml Cumin seeds
1 chili pepper
15ml Olive oil
【Nutrition facts(1/4)】

☑︎Calories 326.62kcal
☑︎Total fat 8.44g
☑︎Carb 35g
☑︎Dietary Fiber 7.83g
☑︎Protein 36g

Nutritional value calculation is quoted from Standard Tables of Food Composition in Japan 2021.
Material arrangement
You can make spices other than curry powder without it.
You can make ground beef or ground pork instead of chicken breast (it will be a little greasy)
If it's for children, I'll go without chili peppers.
If you add yogurt or  fresh cream at the end of the stew, it will be mellow.
This time, it's a keema curry made without stir-frying ground meat.
If you want to make it fried, please click here.
The rice to go with the curry is cooked by mixing purple sticky barley.
How to make
Preparation
Chop the onions, garlic and ginger.
Remove the stem of the tomatoes and cut them into cubes.
I didn't peel the skin this time, but if you want to peel , soak them in hot water, take them in cold water, and peel off.
For the ground meat, add salt, powder spices (with cinnamon, nutmeg, cloves) and roughly entangled.
Heat the spices
Please use a thick pot
Warm the pot, add olive oil and spices (bay leaf, cinnamon stick, cumin seeds, chili) and put it on low heat.
It heats until the cumin seed pops and smells good.
About the pot used
I'm using staub cocotte round 22cm (mint)
Stir-fry onions
Let's fry the onions until brown.
If the fire is weak, it will take some time, so I'll make it weak and medium to medium heat.
Also, if you touch it too much, the temperature will drop and it will take time.
Spread it all over and stir-fry it slowly over and over and over again.
When the onion becomes soft, when it becomes clear, add garlic and ginger , and fry it further.
On the way, if it's about to burn, add water (out of the amount) and remove the stick.
Stew
When the onion turns brown, turn off the heat.
Add ground meat, tomatoes and salt, and mix roughly.
Use the moisture of tomatoes to cook anhydrous.
In the case of a pot that can't be cooked anhydrous, please add about a cup of water.
Cover and put it on fire again.
When the steam rises, put it on very low heat and simmer for about 20 minutes.
Add pumpkin
In the meantime, cut the pumpkin.
Take the seeds and guts and cut them into easy-to-eat sizes.
I will go back to the pot
It smells good, and it's OK as long as the tomatoes are boiled and juice-like.
In the case of ground chicken breast, it's a little easy to burn because it's less fat.
Add curry powder and powdered cheese and mix.
Add the pumpkin, Sprinkle a pinch of salt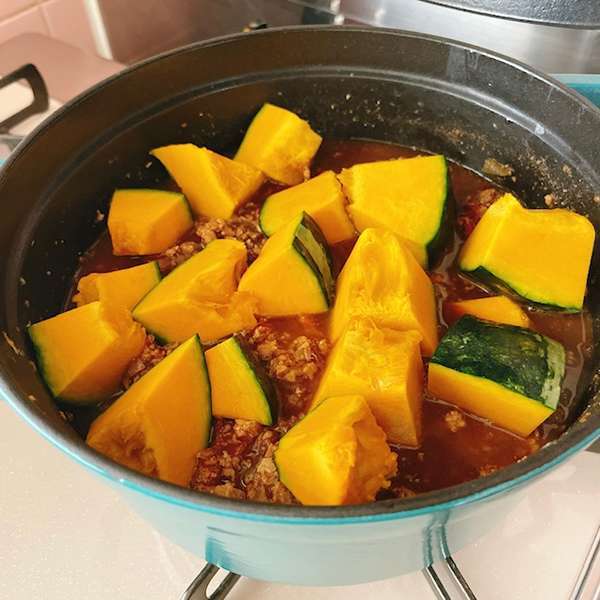 Cover it again and make the fire a little stronger.
Stew the pumpkin for about 10 minutes until it becomes soft.
Open the lid and mix gently.  Let's taste.
If it's not enough, add salt and curry powder.
That's it.
If you put it until the next day, the taste is soaked in the pumpkin
In that case, transfer it to a storage container, wake up completely, and then refrigerate.
Serve
This time, I matched it with purple sticky barley rice with skin. Serve keema curry on top of rice and drop the egg yolk.
Chopped parsley, shave the pepper as you like, and it's done.
It's a keema curry that is easy for children to eat with well-fried onions, plenty of tomatoes, and light chicken breast.
About the vessel
I'm using an Arabia Paratissi 21cm plate.
YouTube
1日おきに更新中!
My YouTube videos are English subtitles. Please subscribe to my channnel!