Thank you for coming today! This is the English recipe
こちらは英語版レシピです(日本語版はこちら)
This time, I'd like to introduce grilled chicken thighs with bones.
You can make it just by seasoning and baking in the oven or toaster. I will introduce you to two kinds of baking methods.
Video Recipes
Please don't forget to like the video,and subscribe to my channel!
Ingredients (for 2 people)
2 Chicken thighs with bones
1.25ml Salt
15ml Sake
10g Garlic
5g Ginger
15g Soy sauce
15ml Olive oil
250g Onion
120g Carrot
【Nutrition facts(1/2)】

☑︎Calories 592.46kcal
☑︎Total fat 40.38g
☑︎Carb 18.52g
☑︎Dietary Fiber 3.92g
☑︎Protein 42.46g

Nutritional value calculation is quoted from Standard Tables of Food Composition in Japan 2021.
Arrangement
Even if you only season with salt and olive oil, it's delicious.
Please have your own vegetables as you like.
How to make
Season 
Bone-in chicken thighs are rubbed with salt on both sides.
Transfer it to a plastic bag, etc., add sake, soy sauce, grated garlic ginger, and rub it in.
Leave it for about 30 minutes and marinat it.
You can prepare the day before so far.
In that case, put it in the refrigerator and put it out at room temperature 30 minutes before use.
Then add olive oil and mix well
Cut vegetables
The onion is made into a comb shape, and the carrot is peeled and cut into strips.
Bake
How to bake in an Aladdin toaster
If you bake with the Aladdin graphite grill and toaster flagship model, use the included grill pan (deep)
Stuff the vegetables and put the bone-in chicken thigh on top of it.
Cover the grill pan (shallow)
No need to preheat the Aladdin toaster
Put it in a toaster and bake it at 260 degrees of the grill course for 20 minutes.
After that, leave it in the cooking cabinet for 10 minutes and steam it.
It's steamed and soft and moist, and the vegetables will be much sweeter.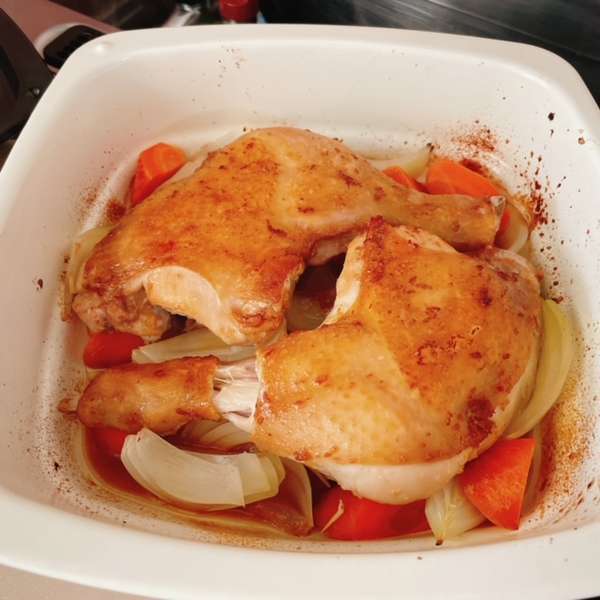 In the case of oven
Next is how to bake in the oven.
Spread butter on a heat-resistant dish, stuff vegetables, then place the bone-in chicken thigh with the skin facing up.
You can also fold an oven sheet or aluminum foil instead of a heat-resistant dish and make it into a box shape.
About the vessel
I'm using staub rectangular dish 34cm.
Bake in an oven preheated to 200 degrees for about 35 minutes.
About the oven 
I'm using SHARP superheated steam oven 31L.
The skin was charred to CRISPY!
Be careful of burns and take them out.
Eat and compare
I ate and compared two kinds of baking methods.
This is oven-baked. Crispy and juicy.
And this is Aladdin Toaster.
Compared to that, it's quite moist and soft. It's like simmered food or stew. Onions and carrots also have a sweet flavor like when cooked anhydrous.
Serve
Serve in a bowl with lettuce and petit tomatoes. It's a grilled chicken that's just pickled in a seasoning and grilled. Please come to the Christmas food.
About the vessel
I'm using a staub campagne deep plate 25cm.
YouTube
My YouTube videos are English subtitles. Please subscribe to my channnel!